This is the 50th song in the Key of Awesome series.
Description
Edit
We found love in a homeless place!
MAN (Spoken)
Love is like a talkin' pony
At first you're like "Oh cool, a talkin' pony!"
Then it says somethin' really nasty to you and hurts your feelings
So then you take drugs so you can get along with the pony
RIHANNA
Taking baths while fully clothed
We look cute when we overdose
A shopping cart is our vehicle
We go to drugs and we don't do school
We don't understand why everyone's annoyed with us
I bet it's cus they're all jealous
We blow smoke in your mother's face
We do meth but we're in great shape
We don't know how to use ashtrays
We make love in a homeless man's face
HOMELESS MAN (Spoken)
I asked for change not a threesome
Could be worse
RIHANNA
We push old people down the stairs
And roll away in their wheelchairs
Being gorgeous has it's perks
He forgot how drinking works
And we can't have sex unless a crowd is watching us
Here comes a double decker bus
Our roommate is a talking bug
TALKING BUG
What's up?
RIHANNA
Did we take too many drugs?
TALKING BUG
Nah
RIHANNA
We wound up on Dr. Phil
DR. PHIL
Y'all need to stop screwin' on ferris wheels!
RIHANNA
We found love is repetitive
This is no place for a diva to live
It's time to leave this gross pigsty
Cus I'm Rihanna and you're just some guy
(Spoken) Bye bye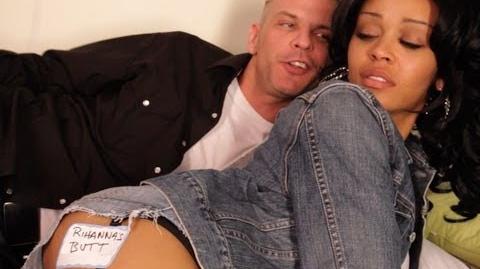 Ad blocker interference detected!
Wikia is a free-to-use site that makes money from advertising. We have a modified experience for viewers using ad blockers

Wikia is not accessible if you've made further modifications. Remove the custom ad blocker rule(s) and the page will load as expected.