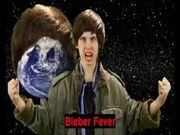 This is a parody of Justin Bieber's Baby. Same tune, but talking about Bieber Fever, featuring Lil Wayne instead of Ludacris.   Starring Jan as Justin Bieber and Mark Douglas as the doctor. Carolyn doing the voice of Justin Bieber.thumb|300px|rightthumb|300px|right|Behind the Awesome!

Ad blocker interference detected!
Wikia is a free-to-use site that makes money from advertising. We have a modified experience for viewers using ad blockers

Wikia is not accessible if you've made further modifications. Remove the custom ad blocker rule(s) and the page will load as expected.